Skip to Main Content
It looks like you're using Internet Explorer 11 or older. This website works best with modern browsers such as the latest versions of Chrome, Firefox, Safari, and Edge. If you continue with this browser, you may see unexpected results.
Official APA Manual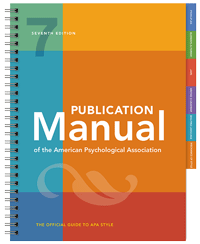 The 7th edition of the Publication Manual of the American Psychological Association was published in October 2019, and is now available in the library. REF BF 767.P83 2019
Some departments and instructors may still be using the 6th edition. Please consult your instructor if you are unsure which edition to use.
Library Guide, Citing in APA, 7th Edition
Practicing Academic Integrity by Lester and Lester
Official APA Websites, 7th Edition
Cite Feature in Databases
Some of the databases have a cite feature which will generate the APA citation for you. Be aware that the citation can have errors. EBSCO Business Source Elite tends to be the most accurate, with ProQuest next.
EBSCO Business Source Elite and ProQuest ABI/Inform databases use the Cite link. The Gale databases use the Citation Tools link. Examples of Gale databases are Academic One File, Expanded Academic ASAP, General OneFile, General Reference Center Gold, Health Reference Center Academic, Small Business Collection.
APA, 7th ed. PowerPoint Slides